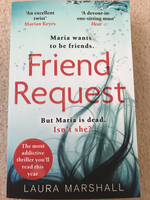 Friend request
Louise had always known that when she was at school. But Maria didn't fit in with the cool crowd, and the rumours that had followed her from her last school made her easy to bully in the summer of 1989.

So when Louise receives a Facebook friend request from Maria in 2016, she's horrified. Because Maria died more than twenty-five years ago.

Didn't she?

As Louise tries to find out who's behind the...
rodyti daugiau
Leidėjas
Little, Brown and Company
Mano atsiliepimas