Savaitės knyga
Dažnai meilės istorija taip pagauna mūsų širdis, kad tampa daugiau nei istorija – ji tampa patirtimi, kurią įsimename visam laikui. "Užrašų...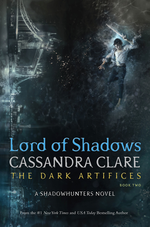 Lord of Shadows
Would you trade your soul mate for your soul?

A Shadowhunter's life is bound by duty. Constrained by honor. The word of a Shadowhunter is a solemn pledge, and no vow is more sacred than the vow that binds parabatai, warrior partners—sworn to fight together, die together, but never to fall in love.

Emma Carstairs has learned that the love she shares with her parabatai, Julian Blackthorn, isn't just...
rodyti daugiau
Leidėjas
Simon & Schuster BFYR
Mano atsiliepimas